Last updated: April 16, 2021
Group Study Rooms (*unavailable now)

*In order to prevent the spread of Covid-19 infection, this room is currently not available. (April 16, 2021)
Hours
Weekdays: 9:00a.m.-8:45p.m.
Saturdays: 10:00a.m.-5:30p.m.
During vacation period: depending on opening hours
You can't use these rooms more than 4 hours in a day.
Conditions of Use
This is a room for 2 persons or more.
The members of a group should belong to Faculty of Human Development or Graduate School of Human Development and Environment.
The purpose of using this room should be for presentation, seminar, group study, or research.
Seating capacity
How to reserve
The representative can make a reservation at the service desk 1 week in advance.
How to start to use
Please come to the service desk with your student ID card. When you reserve the room in advance, please bring the reservation slip.
During using group study room, your student ID card is left at the service desk.
Notes for users
If you are delayed for more than 30 minutes, your reservation will be cancelled.
It is prohibited to eat and drink in the library. Bringing drink in bottles with caps is allowed.
It is prohibited to using a mobile phone.
Please sustain from bothering others, for example, having a great fuss.
AV Booths (*unavailable now)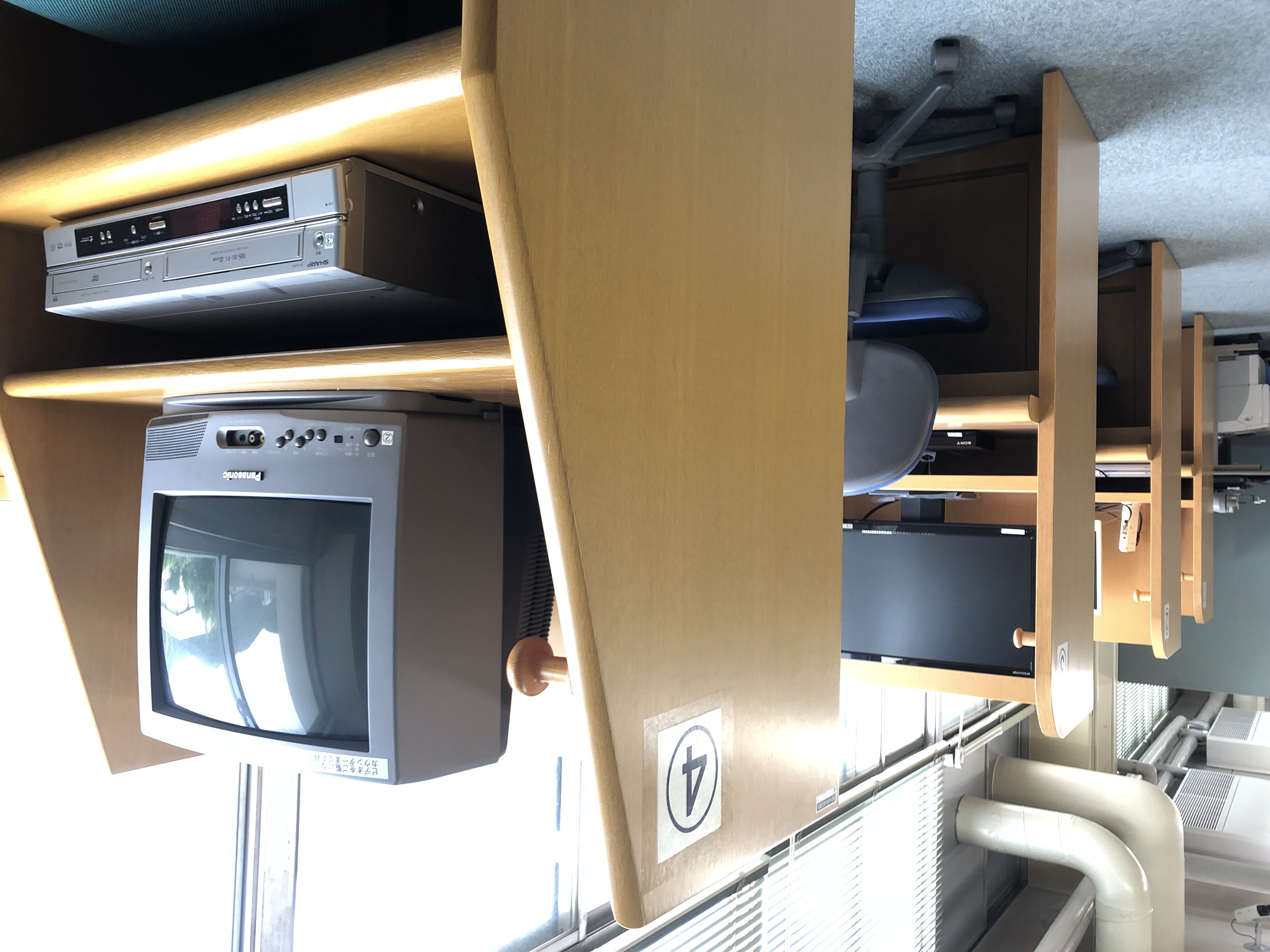 *In order to prevent the spread of Covid-19 infection, these spaces are currently not available. (April 16, 2021)
Kobe University members are allowed to use AV booths to listen and watch library AV materials (DVD/CD/VHS). When browsing library AV materials, library staff will provide you with materials and lend you headphones and a remote control. Please apply at the information desk.
Accessible Facilities
・Wheelchair Accessible Carrel Desk (1)
・Desktop Electronic Magnifier (1)
・Microform Reader-Printer (1)
Equipments (*partially unavailable now)
*In order to prevent the spread of Covid-19 infection, some equipments are currently not available. (April 16, 2021)
・Optical CD/DVD Drive (1)
・Headphones and Remote Controls for AV Booths (4 sets, unavailable now)
・Headphones for Naxos Music Library (NML)[JPN] (2, unavailable now)