There are self-service photocopying facilities at libraries.
If you would like to make copies, please submit Photocopying Form to the information desk after agreeing the copyright rules listed below.
Copying is for the purpose of research by the user.
The number of pages copied must not exceed half of the work.
Papers and other articles published in periodicals can be copied in their entirety as long as the next issue has already been published or three months have passed since the current issue had been published.
Only one copy of something can be made per person. I.e., multiple copies are not permitted.
Regardless of whether compensation is received or not, copies are not to be re-copied or distributed.
Price List
Photocopying by Private Expense
| | black-and-white | color |
| --- | --- | --- |
| Kobe University members | 20 yen (per sheet) | 60 yen (per sheet) |
| Others | 35 yen (per sheet) | 80 yen (per sheet) |
*Same price applies to microfilm reader printing & e-journals printing for people on private expenses.
*In the library, there are self-service copy machines (black-and-white. 10 yen per sheet).
*Prepaid cards can be used for self-service copy machines at the Library for Social Sciences, the Library for Science and Technology and the Library for Humanities. Copy cards sold by the Kobe University CO-OP can be used.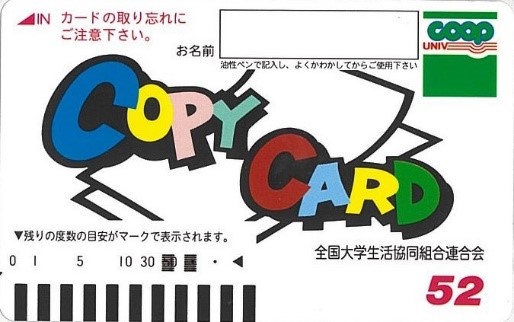 Photocopying by Research Fund
Photocopying by research fund is also available. Please ask staff at the information desk.
| black-and-white | color |
| --- | --- |
| 12 yen (per sheet) | 60 yen (per sheet) |